The third season of
Stranger Things
is creeping up on us! The drop date on Netflix is July 4th, 2019, which is just around the corner.
I don't think I've expressed my enjoyment for
Stranger Things
here on the site, so let me do that right now; I
love
this show.
It speaks to be on pretty much every level. I'm a big fan of synthwave music. The show features a heavy-synthwave soundtrack. I'm obsessed with just about anything from the 1980s and 1990s. The show is set in the early- to mid-80s. I love horror and sci-fi. The series is steeped in horror and sci-fi. Some of my favourite movies are
The Monster Squad
,
The Goonies
,
Stand By Me
; just about anything that features a group of young friends on an adventure and that is the very crux of
Stranger Things
.
If you take all this, throw it in a pot, add an excellent cast, impressive set design, great special effects, and an awesome storyline, and you've brewed up a perfect blend of TV, in my humble opinion.
With my anticipation for the next season already brimming, the media blitz around Saison Trois has my at full hype levels. H&M and Nike have
Stranger Things
promotions for clothing based around the new season, which isn't really my thing, but is worth noting. There's also a partnership with Baskin-Robbins, where they are offering all sorts of amazing
Stranger Things
ice cream treats, which I would devour if there was one near me. And let's not forget the Upside-Down Whopper on offer from Burger King in select US locations. Sure, it's just a Whopper that is literally wrapped upside-down, but it's paired up with retro packaging and let's face it, this sort of stuff is just fun!
The one that is really killing me is the New Coke promotion. You see, the next season of
Stranger Things
is set in the summer of '85, which is also when Coca-Cola infamously introduced New Coke to the masses. The creators of
Stranger Things
, in keeping things as authentic as possible, didn't let this slide and instead partnered up with Coca-Cola to bring New Coke back as a cross-promotion for the two brands! There were pop-up events across the US, where lucky individuals could experience the "Upside-Down" and actually get New Coke out of upside-down pop machines for free! You could also order a promotional kit from Coca-Cola, for a limited time, which included a bottle of Coca-Cola Classic, a bottle of Coke Zero, and two cans of New Coke, all with
Stranger Things 3
branding.
Sadly, being in Canada has meant that I couldn't join in on the New Coke excitement. Ordering the New Coke package internationally wasn't available and re-sellers have cans of New Coke floating around the $40 price point shipped here to Nova Scotia, and that's too rich for my blood.
But, the intended affect of getting me hyped for
Stranger Things 3
certainly worked! So much so, that I decided I'd go back and re-watch Seasons 1 and 2 to get properly ready for Season 3 on the 4th.
Today we'll talk about Season 1, which - and not to be anticlimactic - is my favourite of the two seasons. That's not to say that I dislike Season 2, as you'll see, but I just think that Season 1 is a more concise package.
My immediate thought that I want to convey is that this show is utterly re-watchable. I think some people avoid going back and watching old TV shows, because of the time commitment. As a guy who has watched the entirety of
The X-Files
several times, this may need to come with a grain of salt, but re-watching
Stranger Things
is certainly not an arduous task. I mean, we're talking 8 episodes a season, not 20+ like in a traditional television series.
My favourite thing about the show are the kids and their friendship. Will, Dustin, Lucas, and Mike, their connection, and their surroundings just remind me so much of my childhood. It's not a 1:1 thing. I didn't play
D&D
or anything like that, but swap
Dungeons & Dragons
with - say -
Final Fantasy
and things really start to click. I just can't help but imagine myself as one of their party, which helps me to connect to how they feel trying to find their lost friend and meeting their newest member, Eleven.
Its for this reason among others that I felt like nothing was lost in experiencing this story again. Sometimes a plot point or a reveal only works once and going back and re-watching a movie or series really needs that hook, but that's not the case here. Even knowing what was coming beat-for-beat didn't cause me to be any less engaged. For instance, the ending of Episode 4 - which I won't spoil for those who haven't watched - is still incredibly poignant. I felt every emotion I had the first time around even knowing the outcome.
And, as is usually the case with a well-crafted property like
Stranger Things
, there are all sorts of fun nods and Easter Eggs there for those who invest the time to watch again. For example, in the beginning of Episode 1 Will and Dustin mention
Uncanny X-Men #134
, which is in middle of the Dark Phoenix storyline, and the connections between
Stranger Things
and that issue became more and more apparent as you continue on.
One of my favourite things about Season 1 is the lack of filler. Literally every moment on screen is important in fleshing out the story. All the subplots work their way back to the main story in a timely fashion. I kind of felt like the ending was a little abrupt this time around, something I hadn't keyed in on when I first watched, but I think that's really just because I didn't want it to end.
And that's all thanks to the characters. You often hear cinema junkies like myself grump about new horror films and saying, "I didn't care about the characters! Why would I care if they die?" It comes up all the time and for good reason; it's important. If I don't care about anyone in the show then I can't invest any sort of emotion toward their plight and at that point I'm disconnected.
Stranger Things
is loaded with likable characters. Even the secondary and tertiary cast makes you care. I mean Benny the guy who owns the diner, or the rest of the police force that work for Chief Hopper? They all bring us both emotional pangs and good laughs.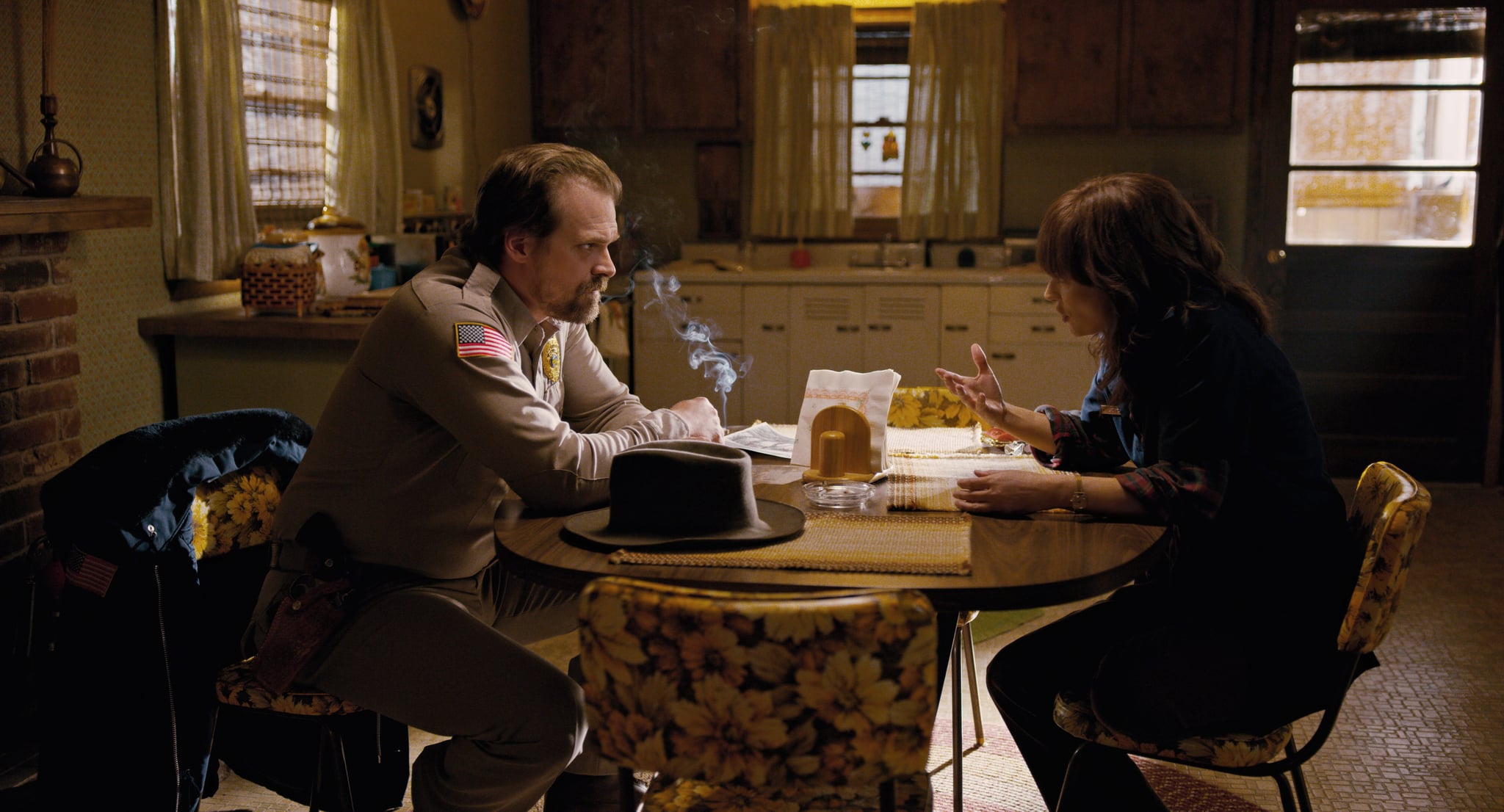 I could gush on and on about Season 1, but I'm sure I'm nearing a thousand words as it is. If for some reason you haven't watched
Stranger Things
and you're thinking about jumping on the bandwagon before the third season hits in a few weeks, do it! Trust me, you'll be glad you did.
Unless, you know, you get scared by monsters and the dark and creepy children with mind powers and stuff...
We'll talk Season 2 soon!
Cheers,
R